ABOUT PINE BELT LEGAL PROFESSIONALS (PBLP)
PBLP is a small but well-recognized group of legal professionals in south Mississippi, covering Jones, Forrest and Lamar counties and including the cities of Laurel, Hattiesburg and Purvis, Mississippi. Our members are active in our respective communities and enjoy promoting the benefits of this wonderful tri-level association to which we belong.

2018 - 2019 OFFICERS
Sue Allmon, CLP, President
Lennette MacDonald, Vice President
Rabi Camara, Secretary
Reba Peden, PP, PLS, Treasurer
Renee' Roddey, Director

Officers for 2018-2019 are pictured L-R as named above.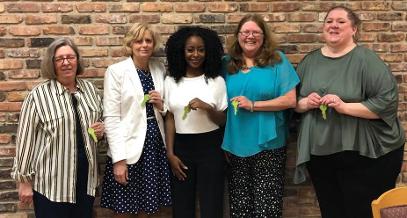 Meetings
Meeting dates, times, and places are flexible because all our members are in different places and we have to work with their schedules.
Civic Involvement

We do from time to time have philanthropic projects and make contributions to worthy causes. These change from year to year depending on need.

We also participate in finance/ humanitarian projects endorsed by the state association.
CLE Offerings

Pine Belt LP co-sponsors with the Jones County Bar Association a Continuing Legal Education Seminar -- CLE FOR THE PROCRASTINATOR - That Means You. This seminar for attorneys and legal support staff offers 6.0 CLE hours, including 1.0 hour of ethics/professionalism.
It is Pine Belt's major fundraiser and is held on the last Thursday of July each year at

Advanced Technology Center
Jones County Junior College
72 Technology Boulevard
Ellisville, Mississippi 39437
The 2018 seminar will be held on THURSDAY, JULY 26, 2018. For more information, click here.