2020-2021
REDISCOVERING MSLPA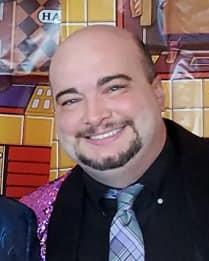 Hello everyone and welcome to the Mississippi Legal Professionals Association's website. It is my great honor and happiness to be serving as MsLPA's President for 2020-2021. For this year, I have chosen the theme of "Rediscovering MsLPA". With this notion, I want to help the association Recruit new members, Retain current, and Reclaim members who have parted from the association. However, I am not able to do this alone, so I need everyone's help in bringing this association closer together and REDISCOVERING all the wonder of MsLPA. I do look forward to working with all the members during this year and finding new members to share my experiences!
If you are not currently a member, please come and join this amazing association!
Christopher Pickreign 2020-2021 President
The Mississippi Legal Professionals Association
Mission Statement
We are committed to delivery of quality legal services through

continuing education, increased professionalism, and networking.
Click

here

for additional information regarding Mississippi LPA.
THE MSLPA OFFICERS FOR 2020-2021 ARE:
CHRISTOPHER PICKREIGN, CMHT, CSS - PRESIDENT
STEPHANIE FLOYD, PP, PLS PRESIDENT-ELECT
JENNIFER PARKS - VICE PRESIDENT
LEE CUMMINGS -
EXE
CUTIVE SECRETARY
LORRAINE KNIGHT - TREASURER
BILLIE RUDDICK, PP, PLS - PARLIAMENTARIAN
BARRY PICKREIGN, CLP, ALP - EXECUTIVE ADVISOR
NOTICE OF PROPOSED CHANGES TO
MSLPA Bylaws and MSLPA Standing Rules
The MSLPA Bylaws and MSLPA Standing Rules are being revised to conform with the NALS Bylaws. These proposals will be voted on at the Annual meeting on May 22, 2021. A redline version of each of these proposed documents is available below:
Additional information regarding proposals
* ATTENTION *
Gulf Coast Legal Professionals will host the
Mississippi Legal Professionals Association
2021 Annual Meeting, May 21-23, 2021, at the
Courtyard Marriott - Beachfront
Gulfport, Mississippi.
*Registration waived for first 25 MEMBERS to register.
Guests must pay for meals.
LODGING: last date to book your room with our group room rate is MAY 7th A block of rooms has been reserved at the hotel - nightly rate of $109 plus taxes for king or double ($129 plus tax for suites). Hotel reservations made through the group's private Link: https://www.marriott.com/events/start.mi?id=1614722337452&key=GRP or by calling the hotel at 228-864-4310. Our group block is reserved under the name: Mississippi Legal Professionals Association 2021.
After May 7, all reservations will be charged the current room rates at time of booking.
SCHOLARSHIP OPPORTUNITY
MSLPA Scholarship for
2020-2021 is $500.00
EXTRA, EXTRA READ ALL ABOUT IT…the deadline for submitting your scholarship applications has been extended to May 1, 2021. Don't miss out!
Submit application (Form S-1) and supporting documents to:
Reba Peden, PP, PLS
Eligibility for the scholarship shall be determined as follows:
Any student who has been accepted in an accredited institution of higher learning.
Any member of this association who has been accepted in an accredited institution of higher learning. This includes online courses which are offered by an accredited institution.
The scholarship will be awarded on the basis of scholastic and leadership ability and financial need.
The scholarship award may be granted to any qualified applicant with special emphasis on legal education.
Form S-1 - MSLPA Cheryl Crayden, PLS, Memorial Scholarship Award
Helpful Hints: See article from ABA Journal posted under Tips and Tricks at the Education tab!
Copyright © 2013-2018 Mississippi Legal Professionals Association

For assistance with this website, contact Webmaster.