Mississippi Legal Professionals Association
Mission Statement
We are committed to delivery of quality legal services through

continuing education, increased professionalism, and networking.
Click

here

for additional information regarding Mississippi LPA.
2021-2022
MSLPA OFFICERS
JENNIFER PARKS - PRESIDENT
LEE CUMMINGS , ALP -
PRESIDENT-ELECT
MARILYN MILLS - VICE PRESIDENT
KEN TULLIS, JR., ALP - EXECUTIVE SECRETARY
STEPHANIE FLOYD, PP, PLS - TREASURER
KAREN KUHN, PP, PLS, EMERITUS - PARLIAMENTARIAN
KAREN SHEARER - EXECUTIVE ADVISOR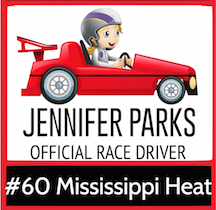 We are are raising money for the NALS Foundation's NALSCAR 2022 race.

Every dollar donated represents 1/10 of a mile.
Help our team reach the finish line! (220 miles total)
Donations may be made through our secure team donation page
(pay by credit card) -- All donations are greatly appreciated!
NALSCAR 2022 Team "Mississippi Heat: (Car #60)nl
OUR RACE CAR DRIVER: Jennifer Parks
OUR PIT CREW MEMBERS:
Alternate Race Car Driver - Lee Cummings, ALP
Car Chief - Marilyn Mills
Spotter - Reba Peden, PP, PLS
Crew Chief - Stephanie Floyd, PP, PLS
Mississippi Legal Professionals Association
Summer Board of Directors' Meeting
August 20, 2022
will be held in person only
Click here for scrip ticket to register for this event.
hosted by Jackson Legal Professionals Association
LOCATION: The Pointe Church, 1120 Star Road, Brandon, MS
9:00 – 9:30 a.m. Registration
9:30 - 11:00 a.m. Seminar
11:15 - 12:30 p.m. Lunch
12:45 p.m. – until Board of Directors' Meeting
CHANGES TO
MSLPA Bylaws and MSLPA Standing Rules
The MSLPA Bylaws and MSLPA Standing Rules were revised and adopted in May 2021 to conform with the NALS Bylaws.
MSLPA Standing Rules Rev. 2021
Helpful Hints: See article from ABA Journal posted under Tips and Tricks at the Education tab!
Copyright © 2013-2021 Mississippi Legal Professionals Association

For assistance with this website, contact Webmaster.