2020-2021
REDISCOVERING MSLPA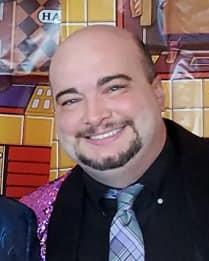 Hello everyone and welcome to the Mississippi Legal Professionals Association's website. It is my great honor and happiness to be serving as MsLPA's President for 2020-2021. For this year, I have chosen the theme of "Rediscovering MsLPA". With this notion, I want to help the association Recruit new members, Retain current, and Reclaim members who have parted from the association. However, I am not able to do this alone, so I need everyone's help in bringing this association closer together and REDISCOVERING all the wonder of MsLPA. I do look forward to working with all the members during this year and finding new members to share my experiences!
If you are not currently a member, please come and join this amazing association!
Christopher Pickreign 2020-2021 President
THE MSLPA OFFICERS FOR 2020-2021 ARE:
CHRISTOPHER PICKREIGN, CMHT, CSS - PRESIDENT
STEPHANIE FLOYD, PP, PLS PRESIDENT-ELECT
JENNIFER PARKS - VICE PRESIDENT
LEE CUMMINGS -
EXE
CUTIVE SECRETARY
LORRAINE KNIGHT - TREASURER
BILLIE RUDDICK, PP, PLS - PARLIAMENTARIAN
BARRY PICKREIGN, CLP, ALP - EXECUTIVE ADVISOR
MSLPA Fundraiser Raffle
Pampered Chef
12" Stainless Steel Wok
TICKET COST: one for $5 or five for $20
DRAWING TO BE HELD NOVEMBER 2020
Do not have to be present to win!
* * *
Click here for Raffle tickets.
Send tickets and money* to
Evelyn Harper
302 Rexford Church Rd.
Florence, MS 39073
*Make checks payable to MS LPA

ATTENTION — All members of MSLPA —
The Board of Directors Meeting scheduled for August 15 will be conducted only via Zoom (live in real-time) — we will not meet or conduct these events in-person at the location previously noticed.
The new deadline for registration for both the seminar and board meeting is August 10 (late fees will still be assessed for registrations received after August 10). Everyone must submit a registration form.
Please note the following:
THE SEMINAR
"Domestic Violence in Mississippi"
Tools for the Advocate
Presented by:
DEANNA GRAVES, ESQ
Will begin at 9:30 a.m.
Is free for members / $20 non-members.
Registration should be submitted to Reba Peden at the address shown on the Seminar registration form.
THE BOARD OF DIRECTORS MEETING
Will begin at 1:00 p.m.
Registration fee is $10 by August 10; $15 after August 10
Registration should be submitted to Darleen Dozier at the address shown on the Meeting registration form.


The Mississippi Legal Professionals Association
Mission Statement
We are committed to delivery of quality legal services through

continuing education, increased professionalism, and networking.
Click

here

for additional information regarding Mississippi LPA.
Helpful Hints: See article from ABA Journal posted under Tips and Tricks at the Education tab!
Copyright © 2013-2018 Mississippi Legal Professionals Association

For assistance with this website, contact Webmaster.