Mississippi Legal Professionals Association
Mission Statement
We are committed to delivery of quality legal services through

continuing education, increased professionalism, and networking.
Click

here

for additional information regarding Mississippi LPA.
2022-2023
MSLPA OFFICERS
JENNIFER PARKS - PRESIDENT
LEE CUMMINGS , ALP -
PRESIDENT-ELECT
MARILYN MILLS - VICE PRESIDENT
KEN TULLIS, JR., ALP - EXECUTIVE SECRETARY
STEPHANIE FLOYD, PP, PLS - TREASURER
KAREN KUHN, PP, PLS, EMERITUS - PARLIAMENTARIAN
KAREN SHEARER - EXECUTIVE ADVISOR
Mississippi Legal Professionals Association
Mid-Year Membership Meeting and Election of Officers for FY 2023-2024
will be held in person on Saturday, November 5, 2022
hosted by Gulf Coast Legal Professionals
LOCATION: Central Fire Station, 1515 23rd Avenue, Gulfport, MS 39501
9:00 – 9:30 a.m. Registration
9:30 - 11:30 a.m. Seminar
11:45 - 12:45 p.m. Lunch
1:00 p.m. – until Mid-Year Membership Meeting
CLICK HERE for the scrip ticket to register for the seminar and meeting.
REGISTRATION DEADLINE: October 28, 2022 (add $5 LATE FEE AFTER 10-28-22)
SEMINAR TOPICS:
Handling Dram Shop Litigation (1hr) and
Anatomy of a Criminal Case (1hr)
SPEAKER: Tim Holleman, Esq., Attorney for Harrison County Board of Supervisors
This seminar has been approved for 2.0 hour(s) of CLE accreditation by the
Mississippi Commission on Continuing Legal Education / Board of Certified Court Reporters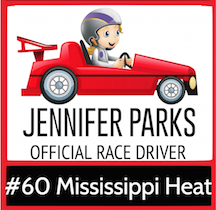 Our team raised over $800 for the NALS Foundation NALSCAR event in Charlotte, NC
Thank you to everyone that donated
Congratulations to
Karen Shearer
2022 NALS Award of Excellence Finalist
***
2022 MSLPA Award of Excellence Recipient
***
2022 JLPA Award of Excellence Recipient
CHANGES TO
MSLPA Bylaws and MSLPA Standing Rules
The MSLPA Bylaws and MSLPA Standing Rules were revised and adopted in May 2021 to conform with the NALS Bylaws.
MSLPA Standing Rules Rev. 2021
Helpful Hints: See article from ABA Journal posted under Tips and Tricks at the Education tab!
Copyright © 2013-2022 Mississippi Legal Professionals Association

For assistance with this website, contact Webmaster.