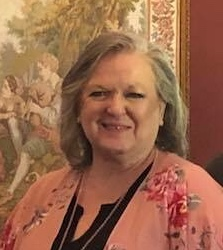 Welcome to the Mississippi Legal Professionals Association's website. It's my privilege and honor to serve as MsLPA's President for 2019-2020. The theme I have chosen for this is year is "Bringing Everyone's Strengths Together," and I look forward to working with our members during the next year to make this the B.E.S.T. year yet!
If you're not a member, won't you join us? We're all looking forward to meeting you !!
Anita Campbell, PP, PLS, 2019-2020 President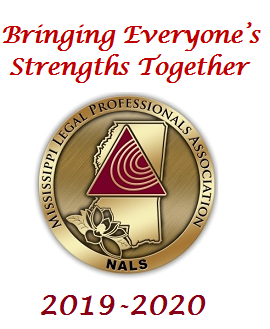 THE MSLPA OFFICERS FOR 2019-2020 ARE:
ANITA CAMPBELL, PP, PLS - PRESIDENT
CHRISTOPHER PICKREIGN, CMHT, CSS - PRESIDENT-ELECT
STEPHANIE FLOYD, PP, PLS - VICE PRESIDENT
JENNIFER PARKS - EXECUTIVE SECRETARY
LORRAINE KNIGHT - TREASURER
REBA PEDEN, PP-SC, PLS - PARLIAMENTARIAN
BARRY PICKREIGN, CLP, ALP - EXECUTIVE ADVISOR
The Mississippi Legal Professionals Association
Mission Statement
We are committed to delivery of quality legal services through

continuing education, increased professionalism, and networking.
Click

here

for additional information regarding Mississippi LPA.
The August Board of Directors' Meeting will be hosted by Metro Legal Professionals on August 10, 2019, at the G. Chastain Flynt Library, 103 Winners Circle, Flowood, Mississippi, at a cost of $10 for registration and an optional $15 for lunch.

Click here for the Board Meeting registration form.
A CONTINUING LEGAL EDUCATION SEMINAR will be held in conjunction with the Board of Directors' meeting on Saturday, August 10, 2019, from 10:00 a.m. to 11: 30 a.m. The topic is ETHICS and will be presented by Deanna Graves, Esq. The seminar is free for members; the cost for non-members is $40.00.
Click here for the seminar registration form.
Copyright © 2013-2018 Mississippi Legal Professionals Association

For assistance with this website, contact Webmaster.