Congratulations, Jamie Roddey, PLS, on your retirement!
On June 27, 2018, Sullivan, Sullivan & Thompson hosted Jamie's retirement luncheon and presented her with a nice plaque which recognized her retirement and 50 -- yes, 50! -- years of service to the legal profession.
Congratulations, Jamie, and enjoy your retirement !!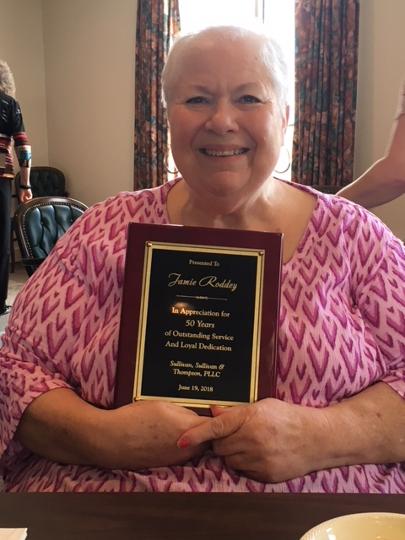 This MSLPA Membership Flyer provides additional information regarding the benefits of membership in this Association.
NALS -- there's an app for that!!!

This free mobile app puts NALS features right at your fingertips! Stay up to date on all things NALS through real-time news, event, and photo feeds. View social media posts across multiple platforms all in one place. Quickly access membership tools, such as the Member/Chapter Locator and the Certification Journal. Great tool for legal professionals on the go!
Didn't make it to Tulsa in 2014 ?
Membership is a tri-level experience -- with your paid dues, you become a member of the national, state and local associations. For more information, please contact our Membership Chair and Vice President, Christopher Pickreign.
Interested in Joining NALS?
Apply Online Now! | PDF Application for Download (several payment options, must be faxed or mailed to NALS)
There are two ways for you to apply for membership. Above are links to an online membership application and a downloadable PDF membership application. Simply click on the option you are most comfortable with and follow the instructions. Remember that by joining NALS you are agreeing to be bound by the NALS Code of Ethics and Professional Responsibility as well as the NALS Bylaws and Standing Rules.
Take a look at some of the great benefits NALS members can enjoy:
Make the most out of your career and join today!
Membership has an advantage

NALS Mission
NALS is dedicated to enhancing the competencies and contributions of members in the legal services profession. NALS Accomplishes its mission and supports the public interest through:
Continuing legal education and resource materials
Networking opportunities at the local, state, regional and national levels
Commitment to a Code of Ethics and professional standards
Professional certification programs and designations
NALS Code of Ethics & Professional Responsibility
Members of NALS are bound by the objectives of this association and the standards of conduct required of the legal profession.
Every member shall:
Encourage respect for the law and administration of justice
Observe rules governing privileged communications and confidential information
Promote and exemplify high standards of loyalty, cooperation, and courtesy
Perform all duties of the profession with integrity and competence
Pursue a high order of professional attainment
Integrity and high standards of conduct are fundamental to the success of our professional association. This Code is promulgated by NALS and accepted by its members to accomplish these ends.
Canon 1. Members of this association shall maintain a high degree of competency and integrity through continuing education to better assist the legal profession in fulfilling its duty to provide quality legal services to the public.
Canon 2. Members of this association shall maintain a high standard of ethical conduct and shall contribute to the integrity of the association and the legal profession.
Canon 3. Members of this association shall avoid a conflict of interest pertaining to a client matter.
Canon 4. Members of this association shall preserve and protect the confidences and privileged communications of a client.
Canon 5. Members of this association shall exercise care in using independent professional judgment and in determining the extent to which a client may be assisted without the presence of a lawyer and shall not act in matters involving professional legal judgement.
Canon 6. Members of this association shall not solicit legal business on behalf of a lawyer.
Canon 7. Members of this association, unless permitted by law, shall not perform paralegal functions except under the direct supervision of a lawyer and shall not advertise or contract with members of the general public for the performance of paralegal functions.
Canon 8. Members of this association, unless permitted by law, shall not perform any of the duties restricted to lawyers or do things which lawyers themselves may not do and shall assist in preventing the unauthorized practice of law.
Canon 9. Members of this association not licensed to practice law shall not engage in the practice of law as defined by statutes or court decisions.
Canon 10. Members of this association shall do all other things incidental, necessary or expedient to enhance professional responsibility and participation in the administration of justice and public service in cooperation with the legal profession.