This MSLPA Membership Flyer provides additional information regarding the benefits of membership in this Association.
Jennifer Parks was presented the 2021 AWARD OF EXCELLENCE for Mississippi Legal Professionals Association.
Congratulations, Jennifer, and thank you for your service to our Association!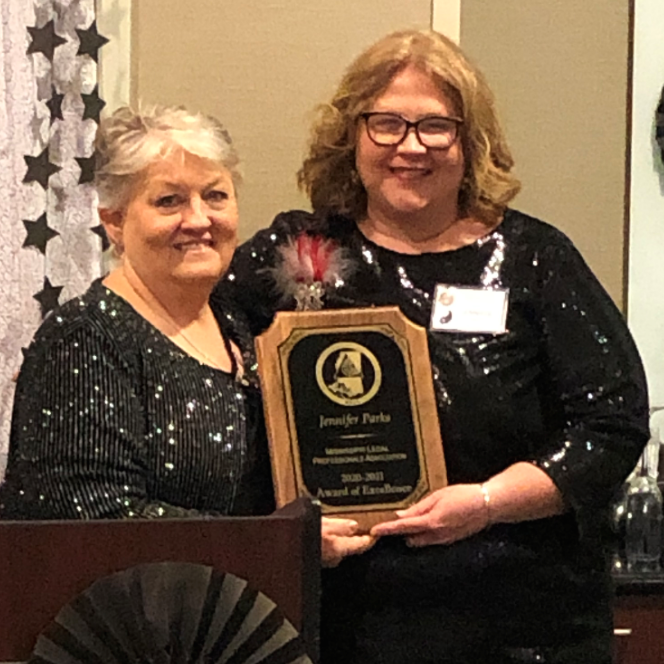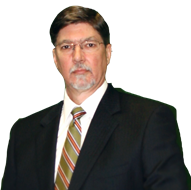 On May 18, 2019, in appreciation of his support over the past MANY years, William E. "Bill" Ready, Esq., was made an honorary member of the Mississippi Legal Professionals Association.
Bill is now OFFICIALLY part of the MS LPA family!
Congratulations, Bill!
Staying in touch with your NALS Pals -- there's an app for that!!!
Connect with your NALS Pals on a platform that looks and feels like social media outlets we use every day. Our new environment allows you to expand your relationships with and easily connect to other members. You can now share articles, register for conferences, access your Professional Development Journal, catch up on the latest news, and offer encouragement to your community in an arena you will find familiar.
There are a couple of ways to access the new platform:
Desktop: Log in to NALS.org just as you always have and then select "My Profile." You will find a much more user-friendly experience, allowing you to connect to your NALS Pals.
Mobile: Additionally, you can search for and download the SocialLink app from the iPhone or Android app store. Use your NALS.org log-in credentials to access this new platform.
Membership is a tri-level experience -- with your paid dues, you become a member of the national, state and local associations. For more information, please contact our Membership Chair and Vice President, Marilyn Mills.
Interested in Joining NALS? (NALS - National Association for Legal Professionals)
Membership Classifications
$130 - Individual Membership -

Individual members shall consist of those persons engaged in work of

a legal nature who agree to comply with the NALS Code of Ethics and Professional Responsibility. Individual members shall be members in good standing of a chartered chapter or state association or who work or reside in a geographic area where a chartered chapter does not exist. Individual members shall be primary members of only one chapter and/or state association, and shall be voting members with the right to hold elective office.

A $10 processing fee shall be submitted with each new individual member application.




$85 - Associate Membership - Associate members include educators, judges, and attorneys. This membership classification may not
vote or hold elective office, except as specifically provided in the NALS bylaws. Individual
members may transfer to associate membership upon qualifying for associate
membership.


$39 - Student Membership -

Student members include students attending an accredited program relating to work of a legal nature, who are classified by that school as taking at least nine hours per semester/quarter of college credit.

This membership classification may not

vote or hold elective office, except as specifically provided in the NALS bylaws.



$75 - Retired Membership -
Retired members shall be members in good standing, who are retired and
have a total of five consecutive years as a member immediately prior to retirement, and
who have either attained age 62 or have retired due to physical disability, and shall be
voting members with the right to hold elective office.

$1,500 (One-Time Fee) - Life Membership - Life members shall be qualified individual members. Dues paid for life membership are nonrefundable and nontransferable and shall be effective only during such period as the life member qualifies as an individual member. Life members shall be voting members with the right to hold elective office.
$104 - Company Membership - Company memberships allow a company in the legal field to register multiple staff members for NALS membership and receive a discount for each. These memberships are owned by the company and, in the event of staffing changes, the company will decide whether to let the individual keep the membership or transfer the membership to another individual.


Take a look at some of the great benefits NALS members can enjoy:
Affinity Partners - Benefits For Members


Through outside sources NALS is able to provide our members with many discounted services that otherwise would be substantially more expensive. Below is an overview:



Abacus Next:

NALS is partnering with AbacusNext, an industry-leading vertical SaaS provider for the compliance-focused Professional Services market. They provide purpose-built, cloud-based solutions for small and medium-sized Legal and Accounting firms to support a secure and cloud-enabled practice. Their highly differentiated cloud infrastructure puts customers' business data and vital applications into a virtual workspace accessible anywhere, anytime, and from any device. NALS members receive a 10% discount on their first order.

Avis Car Rental:

Exclusive NALS Members Benefit: NALS Members can save up to 30% off when making a reservation with Avis Worldwide Discount (AWD). Complete your reservation and receive instant online and email confirmation of your travel plans.

Kahana

: Kahana is an easy-to-use content management and organization platform that makes research, writing, review cycles, and knowledge sharing simpler and more effective for legal professionals. NALS members receive a 15% discount on Kahana's premium subscription.

Law Pay:

LawPay provides legal professionals with a simple, secure way to accept client credit, debit, and eCheck/ACH payments from their office, website, or mobile device. Not only is it easy to use, the online payment solution exceeds standards for internet security and PCI Level 1 compliance. LawPay's proprietary technology utilizes sophisticated safeguards and advanced data encryption methods to ensure sensitive information is always protected. Plus, there are no contracts, setup costs, or cancellation fees, so it's easy to see for yourself why LawPay is a member benefit of all 50 state bar associations and the American Bar Association.

Liberty Mutual Insurance:

Liberty Mutual offers NALS member-exclusive savings on quality auto and home insurance.

LIG Solutions

: NALS members have exclusive access to affordable health insurance options for you, your family, and your business/employees from our partner, LIG Solutions.

Melu Live Chat

: Melu is a 24/7 live chat provider specializing in supporting law firms' website visitors. NALS member, you receive a 10% discount on your monthly bill for your company! NALS members can set up a free 14-day, no obligation trial to see the impact of Melu.

MindEdge

: Whether you are looking to expand your skill set, earn professional credits, or learn something new, our online professional development courses and certificates pair perfectly with a busy schedule. Courses are self-paced and online, accessible from anywhere and available on mobile. NALS members receive a special discount on select courses and some also offer CLE credit!
And so many more benefits !!
Make the most out of your career and join today!
Membership has an advantage

NALS Mission Statement
NALS is is dedicated to enhancing the competencies and contributions of members in the legal services profession. It accomplishes its mission and supports the public interest through:
Continuing legal education and resource materials;

Networking opportunities at the local, state, regional and national levels;

Commitment to a Code of Ethics and professional standards;

Professional certification programs and designations.
NALS Code of Ethics & Professional Responsibility
Members of NALS are bound by the objectives of this association and the standards of conduct required of the legal profession.
Every member shall:
Encourage respect for the law and administration of justice

Observe rules governing privileged communications and confidential information

Promote and exemplify high standards of loyalty, cooperation, and courtesy

Perform all duties of the profession with integrity and competence

Pursue a high order of professional attainment
Integrity and high standards of conduct are fundamental to the success of our professional association. This Code is promulgated by NALS and accepted by its members to accomplish these ends.
Canon 1. Members of this association shall maintain a high degree of competency and integrity through continuing education to better assist the legal profession in fulfilling its duty to provide quality legal services to the public.
Canon 2. Members of this association shall maintain a high standard of ethical conduct and shall contribute to the integrity of the association and the legal profession.
Canon 3. Members of this association shall avoid a conflict of interest pertaining to a client matter.
Canon 4. Members of this association shall preserve and protect the confidences and privileged communications of a client.
Canon 5. Members of this association shall exercise care in using independent professional judgment and in determining the extent to which a client may be assisted without the presence of a lawyer and shall not act in matters involving professional legal judgement.
Canon 6. Members of this association shall not solicit legal business on behalf of a lawyer.
Canon 7. Members of this association, unless permitted by law, shall not perform paralegal functions except under the direct supervision of a lawyer and shall not advertise or contract with members of the general public for the performance of paralegal functions.
Canon 8. Members of this association, unless permitted by law, shall not perform any of the duties restricted to lawyers or do things which lawyers themselves may not do and shall assist in preventing the unauthorized practice of law.
Canon 9. Members of this association not licensed to practice law shall not engage in the practice of law as defined by statutes or court decisions.
Canon 10. Members of this association shall do all other things incidental, necessary or expedient to enhance professional responsibility and participation in the administration of justice and public service in cooperation with the legal profession.